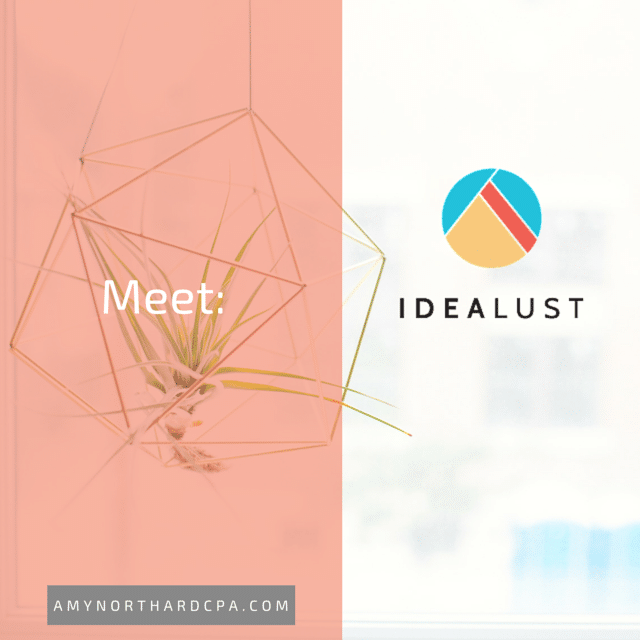 I was contacted a little while ago by Becky, one of the masterminds behind the newly launched website, Idealust. She said she found me when searching for an accountant for creatives, which is always super exciting to hear since that's what I've set out to be!  After Becky explained the concept behind Idealust, I was eager to see it come to life and thrilled that she asked me to contribute.
Becky was kind enough to do a little interview with me, which I'm sharing below. Check it out and keep an eye out for my current and upcoming contributions on Idealust!
Amy: What prompted you to create Idealust?
Becky: We are crazy about being creative entrepreneurs. We are wedding photographers (Limelife Photography) for those that see life as an adventure, for people wanting to make the most of every moment. Over the last 5 years, we've had so many awesome conversations with our clients, friends and industry co-workers about work and life and finding out what people would really do with their time if paying the bills wasn't an issue. (We're not delusional. We pay our bills!) Turns out, countless people we love wish they they were doing more of what they love. We realized it's a pretty incredible life we have: working together, using our passions and talents for our job and getting to adventure when we want. It's certainly not all unicorns and butterflies, but all the challenges and setbacks are worth it. It's the life for us.
And it's the life for so many other creatives who are feeling stuck and afraid or just aren't sure what step to take next.
Amy: How is Idealust different than other entrepreneur blogs?
Becky: Idealust is about a lifestyle. It's about building a business you love and living life to the max. There are business tips and practical tools, but there's also a sense of adventure, freedom and balance. Oh, yes, lots of balance! Idealust is for creative entrepreneurs: designers, photographers, bloggers, stylists…entrepreneurs that appreciative art and beauty, not just business.
Amy: What has been the biggest struggle you've faced as an entrepreneur?
Becky: Patience. We always seem to want things to happen faster than realistically possible. Most things, related to growing a business, take time.
Amy: What do you dislike most about accounting/taxes for your business and how have you worked around it?
Becky: That it even exists! It's definitely not our specialty. It took a couple years (much longer than needed) to get an organized system in place. Now, we have an accountant! We went 100% digital. We scan receipts and categorize them in Evernote immediately, once we get them. We now have a basic understanding of business accounting, so we know what we should be keeping track of.
Thanks Becky!